Essential Oils for Stress
In my experience, using essential oils for stress is one of the most powerful ways to stress less.

I say this because in many cases you'll experience immediate relief.

Simply smelling the right essential oil has the ability to bring calm to any anxious or fearful moment.

The reason for this is that this type of oil has the ability to reach your emotional center within a matter of seconds.

All your emotions, positive and negative, are stored in your emotional center. These soothing scents can help lessen your feelings of stress quickly as their healing qualities reach the emotional center.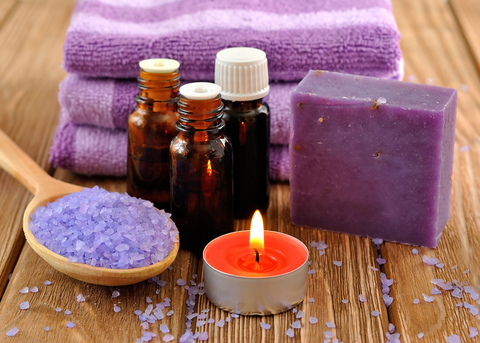 Therapeutic Grade Essential Oils Only
I want you to know that not all essential oils are created equally.

Make sure you're using therapeutic grade. You'll see advertisements for oils that are certified organic or labeled as "pure grade" but these are different from therapeutic grade.

Knowing the difference and using the correct type makes all the difference in the world!

See my full explanation about this here.

Effective Essential Oils For Stress
There are many options available when it comes to choosing your stress reducing essential oils.

Lavender is one of the most popular options. Lavender is effective for helping with increasing energy and stamina, balancing your energy, reducing stress and helping you feel relaxed.

Roman Chamomile is another essential oil you'll hear mentioned by naturopaths or at health stores. It's effective for bringing you a calm, soothing feeling and can also help soothe your skin.

These two examples help the emotional aspects to lessening stress. Click here to discover all the essential oils effective for calming your emotions.

Overcoming Stress Related Fear
When you're so stressed that it moves you into the emotional state of fear I think you'll be pleased to know how essential oils can once again come to your rescue.

For example, Geranium is useful in this area because helps revitalize your nervous and circulatory systems.

Jasmine is a supportive essential oil. It will also bring balance to the female system.

Click here for more essential oils that help feelings of fear.

Physical Aids
There are essential oils that focus on the physical elements of your stress, too.

Examples include Cypress, Patchouli, Thyme, Lemon and Rosemary.
Rosemary, for example, is excellent for helping rejuvenate you when you're overtired or mentally fatigued.

Click here to discover the full list of essential oils dedicated to helping the physical components of stress.

Using essential oils for stress is incredibly productive. If you'd like to find out more about all the various options available, feel free to visit my essential oils store.

Stress Free > Natural Remedies for Stress > Essential Oils for Stress